KITANAIKAKU (The Northern Inner Enclosure) PRAYER TO GOD
This is believed to have been the most important area, not only in Yoshinogari village, but also in the whole nation-state around Yoshinogari. It is here that the dates for rice planting and harvesting, seasonal festivals and ceremonies, and the largest market is thought to have been established. It is where important meetings for matters of state are believed to have been held for the entire nation-state, and where prayers were offered unto ancestors. During the Yayoi period, it is believed that when people could not come to agreement on important issues, a high priest, with the special skill to communicate with the ancestors and god, was asked to intervene, and the decision was made in accordance with the received message.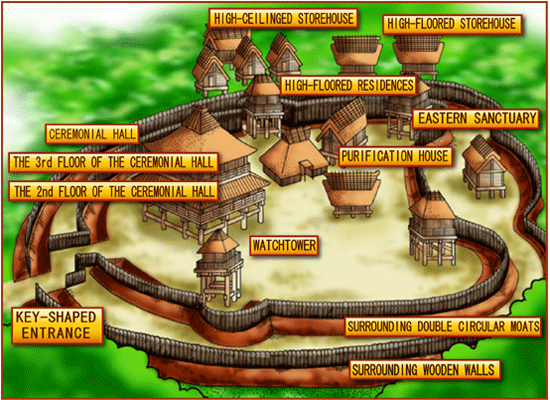 Main Shrine
The 2nd floor of the Main Shrine
The 3rd floor of the Main Shrine
Key-shaped Entrance
High-ceilinged Storehouse
TAKAYUKAJUKYO (High-floored Residence)
TAKAIYUKASOUKO (High-floored Storehouse)
HIGASHISAIDEN (Eastern Sanctuary)
SAIDO (Purification House)
This high-floored building is located between the east shrine and the main shrine. This structure is believed to have been used as a place of purification and dressing before ceremonies at the main shrine. Items used in the ceremonies were also thought to be stored here.
Watchtower
Surrounding Double Circular Moats
For defense, this area is the most important, due to the double circular moats which offered complete protection.
Surrounding Wooden Walls